THE ORIGINAL ROLLING BALL CLOCK

Welcome To The Page Where You Can Actually Buy One Of These Clocks!



This Will Be A Limited Production Operation.

When we had the clock shop running thirty years ago, we were producing over 300 clocks a week.
This Tyme, it is just myself. If I am able to make two a week I will be doing great!

Clocks will be made and shipped on a "First Come, First Served" basis.

We will accept payment in Check, Money Order, Or Credit Cards, using

This time we will be offering the clocks in four color variations, Black Walnut, Cherry, Oak, and Satin Black.

And Now for the first Tyme a new variant, The Idle-Tyme II, as an alternative to the classic original design.

Worried about Buying a Clock?
Check out the Testimonials Page and see what Proud Owners of IDLE-TYME Clocks Have to say!
Click HERE to go and see the Testimonials.


Below you can see the two variants of the clock now. The Original Classic Idle-Tyme Clock, and now introducing Idle-Tyme II

Original Classic Idle-Tyme Clock Style
This is the original design. Also known as the 1- 5- 60 design.
Because the original design used the balls in three groupings.
1 minute teeter-totter, 5 minute teeter-totter and a 60 minute teeter-totter.

New Variation, The Idle-Tyme II
This I assume will be called the 1-10- 60 design
Because this design will be more of the typical Mind thought processes.
1 minute teeter-totter, a 10 minute teeter-totter, and the 60 minute one.





The clock above displays 8 35 + 3 = 8:38

Whereas the new design just say what the time is,
Again the time displayed is 8:38

Now choose the color you want your clock to be.

Walnut

High Gloss Clear Finish

Cherry

High Gloss Clear Finish

Oak

High Gloss Clear Finish
Black Satin

Satin Black Finish








How To Place Your Order,



BEFORE MAKING YOUR ORDER,


PLEASE CONTACT US AND ASK IF THE EXACT TYPE OF CLOCK YOU WILL BE WANTING IS AVAILABLE.

IN ADDITION!
We have been having trouble with some orders just disappearing into the twilight zone.
They appear in every way to have been ordered just fine. But we never get the order itself.
So, after placing your official order, wait a day or so, for an official confirmation E-Mail from us from nss@mwt.net confirming that we have received your order. Until you get this confirmation E-Mail, your order is not placed with us.
If you do not get this confirmation E-Mail in a day or two after placing your order. Please contact us.

Please send to us via an E-Mail Your Information,

Name
Address
City
State
Zip
Country
E-Mail Address
Comments (Any special comments or shipping instructions)

Shipping Address Information if different from above.

Tell Us in the E-Mail, the type of clock you want. The Original Classic Idle-Tyme Clock Style,
or the "New Variation The Idle-Tyme II"

Then indicate the type of wood, the "Walnut" or "Maple" or "Satin Black"

Model: "CW" Would be the Classic Style made in Walnut Wood

Model: "CO" Would be Classic Style made with Oak Wood

Model: "CC" Would be Classic Style made with Cherry Wood

Model: "CB" Would be Classic Style With the Black Satin Finish.

Model: "NW" Would be the New Version made with Walnut Wood

Model: "NO" Would be the New style made with Oak Wood

Model: "NC" Would be the New style made with Cherry Wood

Model: "NB" Would be the new style made with the Black Satin Finish

Basic clock cost for all clocks other than the Satin Black Finish is $253.00 + Shipping. (continental 48 States is $20.00 for the shipping costs.) Elsewhere will be determined.

The Satin Black Clock has a much more difficult finish to make. It takes several more steps to make a suitable looking finish.
So the Basic Cost for the Black Satin Finish will be $275.00 USD + Shipping. (continental 48 States is $20.00 for the shipping costs.) Elsewhere will be determined.

Out of the continental 48 States, and overseas orders we will try to ship the least expensive way. Contact us before ordering if you are out of the 48 states so we can estimate the shipping costs to you.

The $253.00 USD Basic clock cost is for the clocks that are NOT the Satin Black Finish. All clocks are priced the same.

Except for "Custom" Orders. There we will work with you on what you want, and what it will cost.

Payment Method,

Check or Money Order, OR Credit Card using




Checks or Money orders need to be made out to Joe Mayenschein And Mailed to,

Idle-Tyme
c/o Joe Mayenschein
E4710A Pheasant ct.
La Valle, WI. 53941

All Checks will have the delay of waiting for funds to clear before the order is processed.

Clocks will be made on a First Ordered, First Built, and then First Shipped basis. With three exceptions, as seen below.

Not in a Hurry? Go For Option One.

Option One:
All orders will require a reservation of $100.00. This will get you on the list of clocks to be made.
When the clock is finished, we will inform you that it is done via the E-Mail address you provided, and that you need to pay the balance needed. The clock will then be shipped.



BUT BE WARNED!

Only after I have no Option 2 or 3 orders to be made, will any clocks ordered in Option 1 be started. So remember this. It may take a LONG time to get a clock made from Option One.
In a Rush? Want your clock as fast as possible? Try Option Two.

Option Two:
Pay the complete cost of the clock in an one time payment. Including Shipping.
And your order jumps ahead of all the partial payment orders of "Option One"
But remember, your order will be added to this "Paid in full list" (if any others are already ordered ) and you will be at the end of the line of the others that already have also paid in full, and are with them on a First Come,, First Built,, First Shipped basis. But at least you're ahead of all the partial payment "Option One" orders.

BUT....... Also Remember, Any order Placed in Option 2 will wait till all the orders in Option 3 are completed.

Now, Money is no Object? And you want the next available clock? Choose Option Three.

Option Three:
Pay in one payment $300.00 (or more if needed, see details below)
And you will get ahead of everyone and will get the next clock that is ready to ship!
If there happens to be more than one of you that go for this option,
We'll have a small mini auction, and the highest bidder gets the next clock!

After placing your order, If you change your mind at any time prior to the clock being shipped, and no longer want your clock,
an order cancellation fee of 50% applies and you will get 50% of your payment back.
But materials are bought, and used to make your clock, so a full refund is never ever possible. Sorry.
Once the clock has shipped, the Sale Is Final.

The nature of the clock, to operate properly it MUST be as level as possible. If it is too far from level it may not keep accurate time. For an additional $5.00 we can include a small round bubble level as seen below so you can be sure that the clock is level. If you want one add $5.00 to your final cost and be sure to tell us you want the level. It need not stay with the clock, once the clock is leveled off in it's display position. It's just a tool to be sure the clock is level, and can be removed once leveled.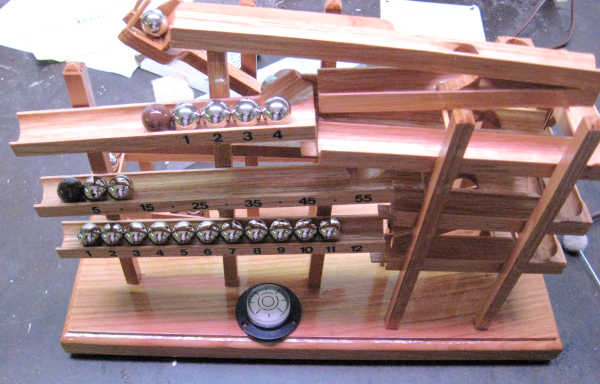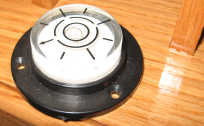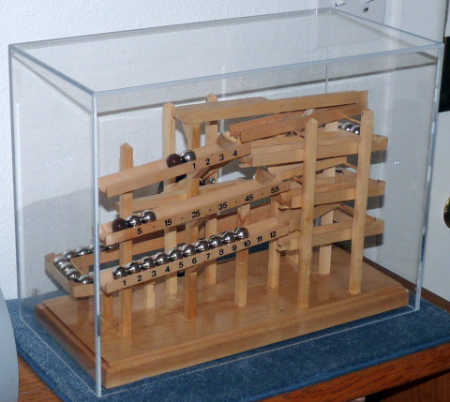 Cases are now available again!
Many have requested cases for their clocks. And we have tried for well past a year to find some, and we feel we did now.
We are not making them. But here is a source of them.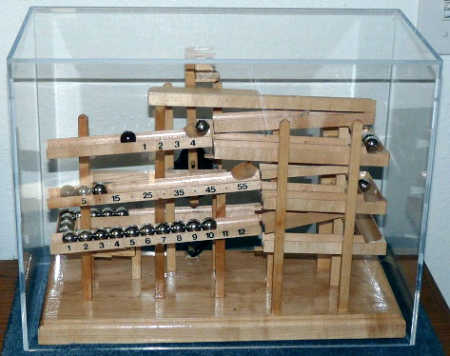 Contact John of JR's Custom Acrylics, Directly at john@jracrylic.com
A Standard thickness of 3/16" for $60.00 + Shipping

Payment Section:
To Pay via Credit card click on the "Buy Now" link below.

We are excited to see your order.
Thanks

Joe Mayenschein


Now REMEMBER! Did You Contact Us First Before Making Your Order?!