THE ORIGINAL ROLLING BALL CLOCK

Welcome To The Page Where You Can Actually Buy One Of These Clocks!



This Will Be A Limited Production Operation.

When we had the clock shop running thirty years ago, we were producing over 300 clocks a week.
This Tyme, it is just myself.
If I am able to make one clock every 5 to 6 days, I will be doing great!

This Tyme we will be offering the clocks in four color variations,
Black Walnut, Cherry, Oak, and Satin Black.

And Now for the first Tyme a new variant,
The Idle-Tyme II, as an alternative to the classic original design.

Worried about Buying a Clock?
Check out the Testimonials Page and see what Proud Owners of IDLE-TYME Clocks Have to say!
Click HERE to go and see the Testimonials.


Below you can see the two variants of the clock now. The Original Classic Idle-Tyme Clock, and now introducing Idle-Tyme II

Original Classic Idle-Tyme Clock Style
This is the original design. Also known as the 1- 5- 60 design.
Because the original design used the balls in three groupings.
1 minute teeter-totter, 5 minute teeter-totter and a 60 minute teeter-totter.

New Variation, The Idle-Tyme II
This I assume will be called the 1-10- 60 design
Because this design will be more of the typical Mind thought processes.
1 minute teeter-totter, a 10 minute teeter-totter, and the 60 minute one.





The clock above displays 8 35 + 3 = 8:38

Whereas the new design just say what the time is,
Again the time displayed is 8:38

Now choose the type of wood you want your clock to be made from.

Walnut

High Gloss Clear Finish

Cherry

High Gloss Clear Finish

Oak

High Gloss Clear Finish
Black Satin

Satin Black Finish








How To Place Your Order,



BEFORE MAKING YOUR ORDER,


PLEASE CONTACT US AND ASK IF THE EXACT TYPE OF CLOCK YOU WILL BE WANTING IS AVAILABLE.
AND THE CURRENT PRICE

IN ADDITION!
We have been having trouble with some orders just disappearing into the twilight zone.
They appear in every way to have been ordered just fine. But we never get the order itself.
So, after placing your official order, wait a day or so, for an official confirmation E-Mail from us
from nss@mwt.net confirming that we have received your order.
Until you get this confirmation E-Mail, your order is not placed with us.
If you do not get this confirmation E-Mail in a day or two after placing your order. Please contact us.

So I can tell you the availability and price of the clock Please send to us via an E-Mail the below Information,
The reason I need this information is, depending on your location,
The clock may need a different motor, and shipping costs vary greatly!

So Please E-Mail me the below information...

Your Name

Address , Now this may be two different locations. I will need Both.

I need say a Billing address, where the paperwork will be going to,
and a shipping address if different from the billing one.

This way I can calculate shipping costs for you also.

Even more importantly, The location where the clock will actually be running at. This tells me what motor to install.

E-Mail Address

Comments (Any special comments or shipping instructions)

Now you tell me what type of clock you want,
This is how the clock is laid out display wise, and the type of wood used.

First is the style: Classic or New, Tell me what Style you want your clock to be.

The Classic style is like the Walnut wood one above.
It is where the top level is IDLE-TYME.COM 1 2 3 4

The New Style is Like the Satin Black one above,

The Top level is 1 2 3 4 5 6 7 8 9

Now Tell me in the E-Mail, the type of wood you want.

The clock can be either style, New, or Classic, in any of the woods.

I offer four "Woods" Their appearance can be seen above.
Walnut
Cherry,
Oak,
And the Satin Black.

Remember, Both "Styles" of the clock, Classic OR the NEW style can be made from all four types of wood.

If you have any Custom needs, Like for special gifts or any reason, we can add a special engraving to the clock also.

Ask for details on this also if interested. You can see the Engravings on the "Custom" Page

Send me the above information, and I will reply as soon as I can with a current total cost shipping included.


The nature of the clock, for it to operate properly it MUST be as level as possible. If it is too far from level it may not keep accurate time.

For an additional $5.00 we can include a small round bubble level as seen below so you can be sure that the clock is level. If you want one, add $5.00 to your final cost and be sure to tell us you want the level.

It need not stay with the clock, once the clock is leveled off in it's display position. It's just a tool to be sure the clock is level, and can be removed once leveled.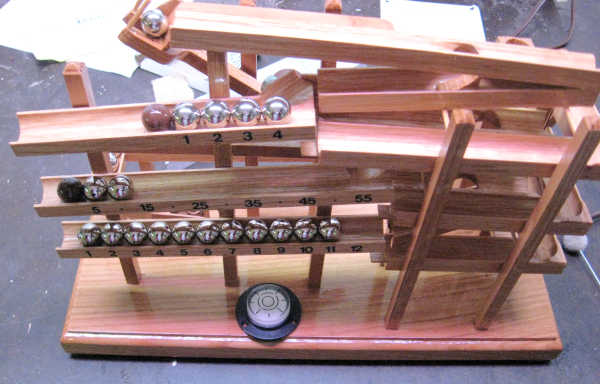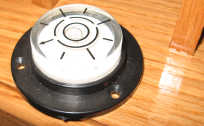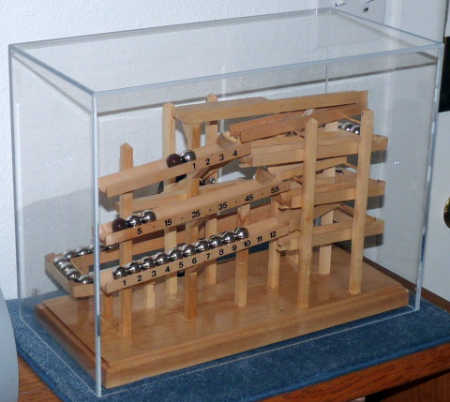 Cases are now available again!
Many have requested cases for their clocks. And we have tried for well past a year to find some, and we feel we did now.
We are not making them. But here is a source of them.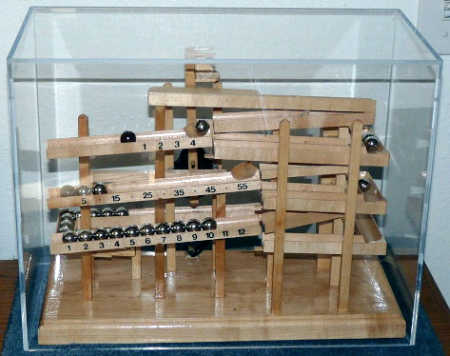 Contact John of JR's Custom Acrylics, Directly at john@jracrylic.com
A Standard thickness of 3/16" for $75.00 + Shipping

Thanks

Joe Mayenschein