THE ORIGINAL ROLLING BALL CLOCK
What Proud Owners Have To Say About Their IDLE-TYME Clock.


Christopher & Jacquelyn G.
United Kingdom

     You have made your father Harley proud. He was clearly a very talented man and I am pleased you are continuing with that legacy.

     As you can tell, I find the clock fascinating and I hope to have many years of service from it. 

     Incidentally, I have been timing it and of course it has kept perfect time - as I would expect. Who would have thought watching time pass would be so interesting!






I am including this clock as a testimonial on the longevity of these clocks. I get an E-Mail from someone like this at least once a week telling me about when they bought the clock all those years ago, and how it is still running!

This clock was made in 1980, it is 41 years old now! It has been plugged in since 1980 and has ran ever since! Keeping perfect time all this TYME!

From the owner....

I thought I would share with you this picture of our clock that is over 40 years old! It sat on our mantle when I was in high school.

 It now sets on my breakfast nook and still keeps perfect time. It is a show stopper and conversation piece.

People have stayed visiting just to see the balls drop on the hour!!

Thank you!
Kim Ewen Shepherd 




Adele W.
United Kingdom

My "Dad" is thrilled with his clock.
Hank B.
Dalton, GA

I have it up and running! It looks and runs great - thank you for such a quality piece!
Fernando E.
Spain

I TRIES THE WHOLE NIGHT AND WORKS PERFECT. THANK YOU SO MUCH, HOPE I CONTACT YOU SOON TO GET ANOTHER ONE.
Donatus C.
Singapore.

I love the Clock, especially the sound of the rolling ball is unique and every minute the ball roll down hitting each other it gives a clear and special sound you will never forget.

Why I bought the Clock?
- Not mass production
- hand made
- unique of each clock
- a piece of art



Jason D.
Forest, VA

Thank you again for the beautiful clock. I've attached a photo of the clock working perfectly.



Joanne C.
Cheektowaga, NY

Received the clock this AM. Have it all set up and running. So far it is keeping perfect time. I LOVE it and want to thank you very much.
Akiko K.
Japan

The clock is beautiful and working very well. My husband is so pleased. Thank you for your professional work. Akiko
David K.
Singapore

The clock is quite in detail and it makes us feel good that it's hand assembled by the maker (you) instead of just being rolled out by machines and robots in a factory .

We feel this is more authentic, genuine, meaningful, original and sentimental that the clock is personally handled by you.



Lynda K.
CANTON, OH

Joe,
The clock is beautiful. Dad enjoys watching it. He says it is smooth as glass.
Lynda



Ralph P.
San Antonio, Texas

Got it unpacked, setup and running. It looks great and is working great. Had alreday gotten the cover from the acrylic guy, John that you recommended, so I can keep the dust from building up. I set it up in my shop which is where I spend most of my time when I'm off making jewelry as a hobby. Anyway, it looks great and I am very pleased.

Thanks A Lot!
Ralph
Alan S.
Branson, MO.

Hi Joe! Just finished unpacking and setting up the clock.

I did purchase the acrylic cover to protect the clock so the whole setup looks great.

It is keeping perfect time.

Looking forward to my first poker game with my buddies to hear there comments.

Personally, I could not be more pleased. It is an interesting clock.

Alan



Christoph M.
Hagen Germany

Christoph, sent an awesome picture of his clock. And Said will sent text shortly....



Dafydd C.
Moonee Ponds, Australia

Hi Joe,
Just wanted to let you know that the clock arrived safely here on Friday, the day after my 30th Birthday (excellent timing) and it is working perfectly, I'm very pleased! My housemates love it also and were very excited and helped me unpack it.
Donald C.
Columbus, GA

Received and set up all went well! Enjoyed beyond expectations everyone was Amazed,thanks for job well done!
Carry on your excellent work! Don
Haroon A.
United Kingdom

I received the parcel on time and safe and sound, and I followed the instructions to the letter. It is a fabulous piece of workmanship and it actually keeps very good time with the other pendulum clocks in the room Ė almost saying Ďhey guys, I can keep up with you!í. My daughters are thrilled with the clock and they are just dying to have their friends over to see the clock. I am in process of contacting a local glass maker here who can make a glass cover for it.

Thank you so much. This is a very special clock for me, given its unique history as well, and the parts that were actually made by your father which are part of this clock.
Irene V.
The Netherlands

Hello Joe,

Here are some pictures of the clock at my parents house.
It's in the hallway, where every visitor can see it. They are very happy with it.


Jean-M.
MILLERY France

The parcel has been delivered to my front door.

It is now on top of my piano next to the clock I bought 20 years ago or more... and both clocks work !

Tremendous sounds...



Joe D.
Arlington, VA

Hi Joe - just a quick note to let you know clock arrived, is set up and running.

Clock looks fantastic.



Kent V.
Seattle, WA

Hi Joe,

I love my new cherry rolling ball clock. My patients in my dental office waiting room love it too! It is beautiful! My son, David, who is 34 years old next month was really excited to see a wooden rolling ball clock. My son and I both love working with wood and really admire the craftsmanship and pride you take in your work. I feel like I should name her like you do a ship. My son and I will put our heads together and come up with a name and let you know. It arrived in perfect condition. I really appreciate the detailed instructions and video on how to unpack the clock in order to not damage it.

My patients really enjoy it. One patient wants to order one for a relative. I gave her your web site address. She went on and on that this was the perfect gift for her family member that she had been racking her brain to figure out something for him. She said that all things happen for a reason, she was glad she came in to have some dentistry done because then she got this idea.

I sent my family in California a video of my cherry rolling ball clock and my son said he was so jealous.

Keep up the good work,

Kent
Ramona S.
Cascade, CO

Well, the clock arrived today, as planned! The box and packing were intact. Scott watched your video instructions for unpacking and assembling, and the clock is running perfectly! Thanks for your note on the bottom. It was a lovely, custom gesture. Very much appreciated. The whole process and conversation has been a genuine pleasure!
Robert W.
United Kingdom

Hi Joe

Just to let you know that I received the clock on Friday and it has run perfectly all weekend. I would also like to commend you on the high quality of workmanship incorporated in making the clock. It is of a much higher standard than I was expecting so naturally I am very pleased with the end product. Thank you once again.

Regards

Robert
Sean B.
Ireland

Joe,
Just to let you know the clock arrived safely today at noon. I am delighted with the super professional finish down to the last detail.
As I type this Ė the clock is working on the living room window.
Best Regards,
Sean
Wesley T.
Monticello, GA

Joe,
We got the clock. It is a real work of art and it works perfectly. I can't stop watching it. Been up all night!

Wesley/Shirley
Ed H.
Columbus, OH

Joe,

I received my Oak Rolling Ball Clock today and am extremely pleased with it. I cannot believe the beauty of the solid Oak clock that I ordered. Done in natural wood, the clock is simply stunning and beautiful. The number of parts and the intricacy of all these parts working together is simply amazing. It is like a beautiful piece of furniture and it is working well.

After reading the history page from your website it is obvious to see that you are building these clocks as a tribute to your late father. What a way to honor his wisdom and engineering genius in developing such a unique clock.

I also think that including pictures on your website would allow people interested to see the beauty of the finished clock in real wood. I have only had my clock running for a few hours, but am enjoying it immensely. I also think it is really neat how you signed and dated the bottom of the clock. Thank you for such a beautiful clock and stunning piece of furniture.

Ed Hann









Gary A.
Amelia, OH

Morning Joe,
My clock arrived in great shape and has been running great for almost a week now.
Very impressed with the care and workmanship. Great job!
Gerald B.
Batavia, IL

Gerald Bought one of Each type of woods!

Hi this is 72 year old Jerry, I can't begin to tell you the absolute pleasure these things bring me! I just setup a location (no more room though), I leveled it off with my Starret Square, I look forward to "Snip-Snip"! May God Bless you and all the luck in the world-----Jerry!

The Last clock arrived in perfect condition a few days ago, it's beautiful, lovely an absolute work of art! I love the Engineering change/alterations to the two flappers, I think it's a big improvement!

It's running great, now I have all three different types of wood. I'm 71 I hope the person I left my estate to understands they are like the Mona Lisa, I won't be here to explain them. You know they say, "The apple doesn't fall far from the tree!", your father was a genius well so is his son,

love Jerry and Midge!
Pastore P.
Italy

Hello Joe ...... the clock has ARRIVED! Everything is ok. I have to thank you for the dedication with my name. If my brother will decide to buy it will talk to you, ok? In the meantime, I'll do you a GREAT advertising for your watch and your honesty. A BIG thank you for everything from ITALY. Paolo P.
Bob S.
Saint Peters, MO

Joe, I received the clock this morning and the box was in perfect shape and had not been opened at all. I followed your instructions to the letter and the clock is functioning perfectly as you said. I and my wife are very pleased with the nice craftsmanship that shows in the clock.
Wayne W.
San Antonio, TX

Joe,

Absolutely beautiful!!! I am amazed by the detail and precision. Rest assured that this clock will be cherished for many, many years to come. Thank you for completing it even though you got hurt half way through.

I am proud and honored to have something made by you. Iím sure your dad is looking down upon you with a proud smile on his face. Just wanted to let you know how much I am enjoying the ball clock you made for me. I have it here on my desk in my home office. It has remained perfectly accurate and in time with the atomic clock on my computer. I truly appreciate all of the attention to detail as well as the overall beauty of this work of art.

I keep it shrouded in the acrylic case with the removable mirror back. It looks really cool with the added dimension of depth that the mirror gives.

Keep up the good work!


Happy Thanksgiving to you and yours,

Wayne W.
Ailbert L.
The Netherlands

Hi Joe,
Yes! Iím very happy! Your clock (now mine ;-) arrived yesterday! I also added a picture of the new happy owner of your clock #175. I am very happy with it, the clock fascinates me very much and hope to enjoy biding my time for many, many years.
Regards,

Ailbert



Dave P.
United Kingdom

( Joe Clockmaker says....) This one I had to include a few extra pictures. The clock was given as a Birthday present. And the look on his face I just had to share with you all!

Comments from his Dad....

Michael was so excited when it arrived. As you can see from the photographs he was very involved in opening it! An amazing birthday present.

The quality of the clock is fantastic... a true testimony to you craftsmanship.. I can tell the pleasure you get from making them, as it is so beautifully made.

It works beautifully. I am sitting here watching it now... fantastic.

I hope you enjoy the photos and they give you some pleasure back for your hard work..

Dave P.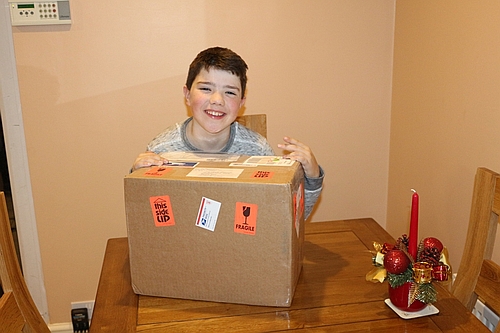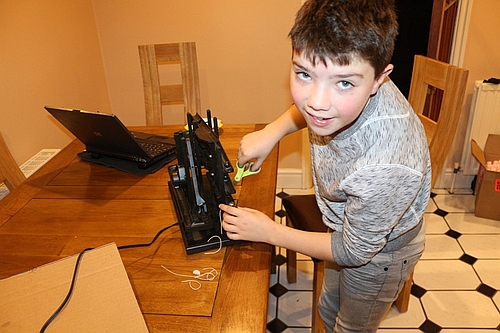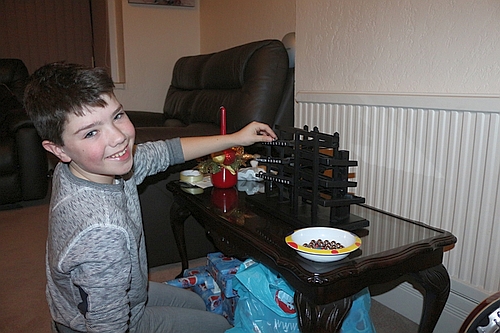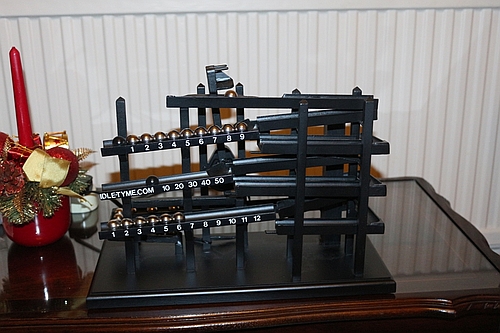 Scott L.
Summerville, SC

Iíve always liked unusual clocks, and this one is now the crown of my collection. I was intrigued the very first time I read about the original Idle Tyme clocks and was very excited when I found out that you were making these again. I canít help staring at it!

Thanks for taking the time to build such a quality piece!

Scott L
Paul J.
United Kingdom

Hi Joe,

Hope you're well. Just a short note to say that the ball clock has arrived safe and sound!

It's beautifully made, and I appreciate the amount of time it must have taken to produce. Thank you for inscribing the base too - a real personal touch.

I'm sure it will give us many years of pleasure, watching time roll by!

Good to do business with you Joe.

Paul



Phillip T.
Kamloops Canada

My clock arrived today, unpacked it as per instructions and it is working perfectly. I again thank you for the clock and I can appreciate the time and work involved in the making of the clock. Great work.
Steve R.
Texas City, TX

Hi Joe,

Just wanted to let you know the clock arrived in perfect condition. It looks great and from what I can tell so far, seems to be very accurate! Iím going to enjoy this one for a long time.

Take care,
Steve R
Tapio M.
Helsinki, Finland

Hi Joe,

Clock is at home now and everything was just perfect, unpacking easy and balls are rolling nicely.
Thank you very much

Tapio



Cherly M.
Attleboro Falls, MA

Dear Joe,
This note is long in coming but I want you to know how thrilled we are with the ball clock. It has become the central point of our house and everyone who sees it loves it. Believe it or not I have been on a thirty year quest to find " the clock".

Over thirty years ago my husband and I went to visit a very special Rabbinical leader. As we were waiting to be seen we heard the whirring and sounds of balls dropping and I said to my husband "what's that?" And my husband looked and said " a clock". We had never seen anything like it. And that began our fascination with the ball clock .

I must tell you that any one who ever came into that apartment was enthralled by that clock,(and there were many). So started my search. I've gone to clock shops and always kept an eye open for the " clock". Last March on a whim (not having high hopes) I googled the clock and low and behold I found you. Boy was I surprised! But not as surprised as my husband when I presented it to him for his birthday. He couldn't believe I actually found it. And he said " this is really a wonderful present".

Two weeks ago a nephew of that Rabbi (long deceased) came for a visit. Immediately he saw the clock and in amazement he said "just like the one my uncle had!" Thanks again for the wonderful clock and the case is perfect too. Sincerely, Cheryl
Christopher T.
Woodland Hills, CA

Dear Joe;
My clock arrived today in perfect condition. What a wonderful birthday present, I don't know how to thank you enough. In many ways it's so much more than I had expected. I am aghast. I am so happy that I can hardly contain myself. This is so appealing. And the inscription on the bottom means a lot to me.
Thank you for this great treat!
Christopher



Preston S.
Pittsburgh, PA

Greetings Joe,

I just wanted you to know as of one hour ago, my clock is set up and working perfectly. Thank you so much!

To me it represents much more than the clock. It is the total fulfillment of a man's ingenuity, dream, brilliance and beauty. It truly is a work of art with each one being unique in its own way. I fell "in want" with one as a child (always had a thing for marbles and mechanics) and you have brought that dream to reality for this guy.

I think it is wonderful that you are able to continue your Father's work and hope you draw satisfaction from the joy you are bringing to all children that come into contact with one. (the children chronologically but even more importantly...to the one inside each adult that most people try to hide from view!).

I have been laying here for an hour just totally fascinated by it. Also, it makes enough noise that my cats have cut a wide path around it!!!!

Again Joe, thanks so much for pleasing this 56 year old kid!!!!

May God bless you and your family (that one that seems to be ever growing through your beautiful work!).

With all good wishes,

Preston
Jean T.
Buffalo, MN

I purchased one of your ball clock about a year or so ago and I have to tell you it not only keeps on ticking (accurately I must add) but it always gains much enthusiastic attention especially from the little folks. Unfortunately they want to touch it. "It's not a toy"!!! I keep telling them. However, I just want to say how much I enjoy my clock. I think it is one of the best purchases I can ever remember making.
Thank you.
Jean
Judy B.
Elizabethtown, KY

Joe,
The clock arrived and was in perfect condition. We set the clock up that night & I had already received the acrylic cover from John at J R Acrylics. It was level & ran perfect immediately.

The walnut finish is beautiful. I am amazed that you can put something this intricate together & everything co-ordinate exactly. I canít say enough about the quality & workmanship of this clock. I find myself standing in front of the clock & just watching all the movement & I am fascinated.

My husband saw one of these clocks over 25 years ago in a clock shop & it was 3 times the price you are charging for the clocks, which we could not afford. He has always looked for one of them & I am so happy that I found your website & was able to give him one for his 60th birthday.



Thanks,
Judy
Linda R.
Murrieta, CA

Hi Joe!

Received our wonderful clock this evening and the box was in GREAT condition...no dings, marks, or anything wrong at all. Just like if you had carried it to our house! We carefully unpacked it according to your instructions and set it up and it appears to be working great...the time is correct!!! LOL, it's been two hours!! We'll probably still be up at 1 a.m. to wait for the big crash!!!

It's beautifully handcrafted and I love the cherry wood color.

I'm sure we'll get many many years of enjoyment from it, and it's so utilitarian, too!! It's definitely unique!!! Thanks for all your hard work! It was positively worth the wait!!

Linda
Matheew R.
Simpsonville, SC

The clock came today! Thank you so much. We absolutely love it. It's hooked up and working perfectly. It's been hooked up and running for about an hour now and the minutes are still dead on. Thank you again for this fantastic creation. Your clock is now a proud centerpiece in our home. I will be returning for another clock in the near future possibly for another room in the house. Thank you again, Joe! Also, your message on the bottom of the clock is a nice touch.
Matthew R.
Robert H.
Windsor, CO

Joe,
I wanted to let you know that we did receive the clock. We had no issues with shipping or unpacking.

We decided to forgo the clock as a Christmas present as we originally intended and instead gave it to our very inquisitive 7 year old son for his birthday two weeks ago. It is without question his favorite present he has ever received. He stayed up most of the first night watching the time roll by. Now he can't wait to get home from school to watch his clock and he loves to report to us what time it is.

Thank you for the care, quality, and craftsmanship you put into our clock, it is truly appreciated.

Robert H
Thadeus B.
Austin TX

Just got my clock and I LOVE it!!! Thank you so much for making this.



Tomris L.
New York, NY

Hi Joe,
So-- we received the clock and finally unwrapped and set it up today. First off, it is absolutely gorgeous... I can't stop watching it... incredibly addictive!

We followed all the unwrapping instructions exactly, and the clock's been working fine.

Thanks SO MUCH for your kind assistance and for our beautiful time piece.
All the best....
Tomris
Chris T.
Overland Park, KS

Hey Joe. The clock arrived today, and I have to say it is beautiful. It is exactly what I envisioned. The color of the wood is perfect. Thanks again for making these available, and for being so patient with all my emails.

Chris
Christopher P.
Inver Grove Heights, MN

Thank you! It is working beautifully, and will be treasured!
Jerry B.
Batavia, IL

Joe I can't begin to tell you how much I love that work of art, it runs all the time everyday.

It actually helps me with my medical problems Joe it has become my friend.

This Monday I get skin cancer removed, and because of my blood thinning chemical, and my pace maker I have this minor operation done in an operating room? Joe I'm scared to death you see even a dentist won't want to work on me, and I think I have a bad tooth?

It arrived in perfect condition I just love it, it's obvious your apple fell from the same tree your dad's apple fell from, your a genius too. I can't imagine putting one of those things together, it's working great and I plan on staying up until the "1:00 AM drop"!

I do want to buy a second one, were deciding on wood, but my wife thinks we need a cover? I really like the openness of it, this thing is a work of art I can't see closing it up in plastic.

I never saw an item packed so well, I hope your still doing them when I decide on which wood.

Joe like my clock I just keep a rollin' a long-----Jerry
Sergey U
Moscow USSR

Hi Joe!

So, what can I say - the clock is great! Just as I expected. It found its place at my home for the time being, but I plan to take it to my work - let it be seen to all my friends and colleagues. Masterpieces should be available to everyone )))

Thank you again for letting it happen! All the best to you and Linda in your life and business!

Serge
Tim B.
United Kingdom

The clock surpasses the high hopes I had for it.....it is superb and works perfectly. Thank you also for the inscription you put on the base of the clock, it makes it that bit more special for us.

I can't get my head round the working of the clock, on the one hand it is "simple" but then again it is so complex in its design and execution of its function, that I sit and watch it in awe...!!! And as you say, it has so many individual parts that blend together into such a homogeneous machine.

Thank you again for all your efforts and patience with me, I am truly grateful,
Regards, Tim



Paul C.
New Britain, CT

The clock is great. Works flawlessly, and it shows your quality work. Thanks. Paul
Robert B.
Whitewater, WI

Hello Joe,

It got here in one piece. It's better than I expected.

A very fair member of the opposite sex found it intriguing. Which makes it even more valuable to me.
Thanks for getting it here fast..

Rob
Robert H.
Honolulu, HI

Got it. Thanks.
Incidentally, my students think the clock is awesome. Several are saying they absolutely MUST have one themselves. I don't know that that will actually result in any more orders for you, but I am telling them about your website.
Thanks again.
Bob
Tom H.
Nashua, NH

Clock looks great, I just set it up. The message on the bottom is a nice touch, thank you.

I do have a complaint; I'm trying to do my work but I can't because I'm staring at the clock like a kid watching cartoons.

I will tell my friends.

Thanks again - Tom